Ecotourism and adventure travel are two leisure trends that have become very popular in the last few years, particularly among families. The basic premise of ecotourism is to visit natural areas that are beautiful and pristine; adventure travel is related to ecotourism by means of active exploration. Essentially, travellers get to enjoy nature and have fun in a responsible manner.
Florida is blessed with beautiful spots that simply beg to be discovered, and one of the most pristine is the Delnor-Wiggins Pass State Park. Located just northwest of Naples, this Florida State Park is home to many wildlife species, lush vegetation, an estuary network of canals, and a postcard-perfect, immaculate beach. In other words, the Delnor-Wiggins Pass State Park is perfect for ecotourism.
The adventure experience at Delnor-Wiggins is provided through an authorized concessionary that caters to all visitors, particularly those who travel as families or in groups. Naples Beach Adventures offers everything needed to make trips to Delnor-Wiggins truly enjoyable. Visitors can take advantage of the rentals offered at the park, from beach chairs to umbrellas and from standup paddleboards to kayaks. Guided tours are even more fun; these affordable activities are perfect for the entire family, and they include exploration of the canals, finding wildlife, navigating the mangrove canals, picking up seashells, and learning about the lives of the Calusa people, truly native Floridians who set up their villages long before homesteaders arrived.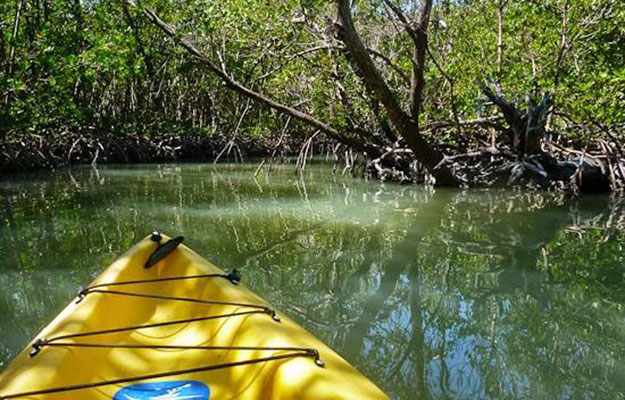 One of the most attractive aspects of this park is that it offers both adventure and ecotourism in a location that is very accessible. Visitors are surprised to find out that Delnor-Wiggins is just a couple of miles away from public schools, beach resorts, country clubs, and even condominiums; however, the strategic location and the natural barriers give this park a sense of solitude unlike any other spot in Florida. This is a magical place where you can snorkel out in the Gulf of Mexico, maneuver a kayak while shorebirds fly above, stroll through quiet nature trails, spend an afternoon sunbathing, build a sandcastle, and enjoy a majestic sunset featuring vanilla skies. All this can be accomplished in a single trip, but most visitors make plans to return as soon as they can.
The next time you sit down to plan your vacation, remember that ecotourism and adventure is waiting for you at Delnor-Wiggins Pass State Park.
Naples Beach Adventures
11135 GulfShore Drive
Naples, FL 34108
Parking Lot #4
(239) 596-9842