Fishing is a satisfying experience that offers entertainment and nutrition wrapped into one exciting package. Located on the west coast of Florida, Delnor-Wiggins State Park offers a high-quality fishing experience for both beginner and expert fishermen. Whether you have access to a water vessel, or you prefer fishing from the shore, this popular Naples attraction has something for everybody.
Time to Fish
Delnor-Wiggins State Park is open from dawn to sundown every day of the year, making sunrise possibly the most lucrative time to fish. Tide charts for the area provide vital information about tidal changes, which keep this fishing gold mine consistently well-stocked. Consider checking tide charts for sunrise to determine the best day and times to fish at the park, and be sure that your fishing license from the Florida Fish And Wildlife Commission is up to date.
Where to fish
Although fishing is prohibited in swimming areas, there are several places to fish from around the park. The eastern part of the park houses a lagoon with a parking lot and access to a boat ramp. Towards the northern area of the inlet, a stream passes through the mangroves and spills into Wiggins Pass, the most popular and lively fishing spot in the park due to its year-round variety of fish. Offshore fishermen can launch their boat at Turkey Bay and venture through the Cocohatchee River or the Gulf of Mexico, while a water vessel is not required to fish at Wiggins Pass as shoreline fishing is available.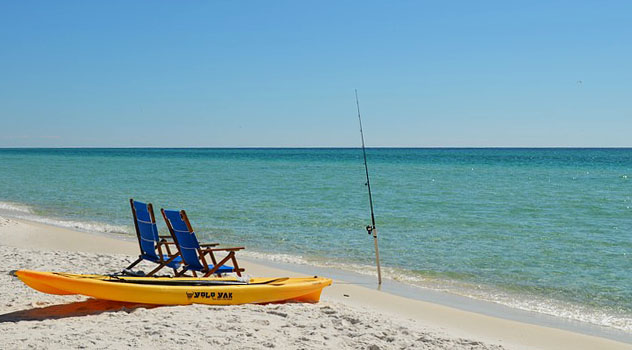 What to fish
Wiggins Pass is home to many species of fish including but not limited to sheepshead, redfish, snapper, pompano, sea trout, snook, and tarpon. If you are the proud owner of a cast net, save yourself the cost of bait and throw your net into the many schools of bait fish in the area. Greenbacks, glass minnows, and finger mullet are just a few varieties of bait that are plentiful in the park. For best results, look for sandbars and schools of bait fish leaving ripples in the water before throwing your cast net or casting your line.
No matter your experience or equipment, Delnor-Wiggins State Park is sure to provide a breathtaking, unforgettable experience with its sugar white sand beaches, a variety of bait and game fish, and numerous other activities.
Photo Source: Delnor-Wiggins State Park
Naples Beach Adventures
11135 GulfShore Drive
Naples, FL 34108
Parking Lot #4
(239) 596-9842